This spring 37 students are studying internationally at 16 partner universities in 10 different countries and areas through FSU's Global Exchanges. Interested students can browse through our catalog of exchange locations online at global.fsu.edu/exchanges.

Join the CGE and students from the Chinese Students and Scholars Association to celebrate the Year of the Rat on January 23 at 6 p.m. in The Globe Auditorium. Learn about Chinese tea culture, practice your calligraphy skills, play Mahjong, and sample traditional dumplings. 

 

Enjoy a culturally enriching lunch hour eating authentic food, listening to music, and meeting students from the Lebanese Social Organization for just $10 (cash or check only) on January 24 at starting at 11:30 a.m. in The Globe Dining Room. 

 

In every corner of the globe, Florida State University students, faculty and staff are connecting with different cultures and developing research partnerships. Read More

 

International and U.S. students, scholars, and faculty gather for coffee and snacks at The Globe every Friday classes are in session from 5-6:30 p.m. This event is open to all current FSU students, faculty, and staff.

Study at one of 45+ international partner institutions through FSU's Global Exchanges! Visit global.fsu.edu/exchanges to learn more, or attend an info session held every Wednesday at 2 p.m. and Thursday at 12 p.m. in Globe 2600.

Today's global economy requires graduates who are both academically and cross-culturally prepared to succeed in a diverse, multicultural world! Attend a weekly info session held on Tuesdays at 11 a.m. or Fridays at 1 p.m. in Globe 2300.

ECC meets Monday-Friday from 4-5 p.m. in The Globe Lounge to practice conversational English. You don't need to sign up in advance, just show up!

Vivianne Asturizaga and Allison Lang received the Center for Global Engagement's 2019 Global Citizen Award; these exemplary FSU students have made significant contributions toward fostering global understanding on campus, in the community, and abroad.

Florida State University is a global community of students, scholars, researchers and alumni. Now, FSU's international reach will be accessible around the globe through the new, revolutionary website "GradWorld FSU."

Florida State University is home to about 1,250 international students from 130 different countries and areas. FSU made this short video of some of our students introducing themselves. We hope you enjoy it. Força, Vamos, Go Noles! 

 
---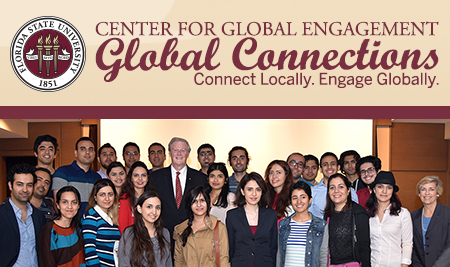 It includes upcoming events, topics of interest, and the amazing things our students, scholars, and staff are involved with during Fall and Spring.
Sign up here to receive our next newsletter.
View our past newsletters HERE.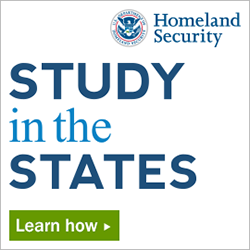 title-inside title-centered
2