Join us on Wednesday, February 20, from 7–8:30 p.m. in The Globe Auditorium to learn about this holiday tradition, watch a special performance from a local traditional Chinese dance team, and decorate a paper lantern!

 

Attend a Global Cafés this spring on select Fridays from 11:30 a.m. until food runs out in The Globe Dining Room. Enjoy authentic international cuisine and music at this student-led fundraiser for just $8 per plate (cash or check only).

 

Three exemplary students — Maia Hass, Karly Kajy, and Manuela Martinez — have been awarded the Global Citizenship Certificate (GCC) scholarship to go on a Global Exchange and study at one of 40+ international partner universities this spring.

 

This weekend 11 Florida State University students and three Center for Global Engagement staff attended the 13th annual Florida International Leadership Conference (FILC) at Camp Cloverleaf in Lake Placid, Florida.

 

All FSU students interested or enrolled in the Global Citizenship Certificate are invited to attend three Global Get Togethers this spring to connect with other globally-minded students and make life-long friends.

 

The Global Citizen Award honors two outstanding students who have actively engaged in intercultural initiatives on campus or abroad and who have exemplified leadership in promoting and supporting a global community among Florida State University students.

Study at one of 40+ international partner institutions through FSU's Global Exchanges! Visit global.fsu.edu/exchanges to learn more, or attend an info session held every Wednesday at 12:00 PM and Thursday at 2:00 PM in Globe 2300.

International and U.S. students, scholars, and faculty gather for coffee and snacks at The Globe every Friday classes are in session from 5-6:30 p.m. *Note that International Coffee Hour will resume on Friday, Jan. 4.

ECC meets Monday-Friday from 4-5 p.m. in The Globe Lounge to practice conversational English. You don't need to sign up in advance, just show up!

Omer, a Global UGRAD-Pakistan student, spent this fall at FSU sharing his unique perspective and culture with the FSU community while taking classes, exploring American culture, and serving the Tallahassee community. 

Beyond Borders Alumnus Casey Johnson, currently pursuing his master's degree at the University of Oxford, claims his experience helped him to develop a global mindset.

Today's global economy requires graduates who are both academically and cross-culturally prepared to succeed in a diverse, multicultural world! Attend a weekly info session held on Tuesdays at 11 a.m. or Fridays at 1 p.m. in Globe 2300. 

The Center for Global Engagement's Global Citizenship Certificate program allows undergraduate students to gain cross-cultural communication skills and competencies and to foster global-readiness.

 
---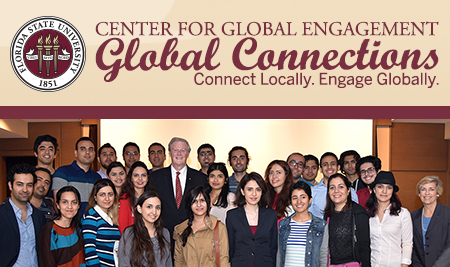 It includes upcoming events, topics of interest, and the amazing things our students, scholars, and staff are involved with during Fall and Spring.
Sign up here to receive our next newsletter.
View our past newsletters HERE.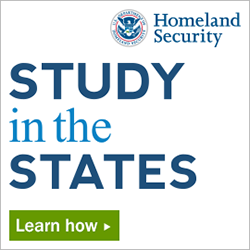 title-inside title-centered
2