Adelina Emini: Florida State's First Scholar From Kosovo
---
Adelina Emini: Florida State's First Scholar From Kosovo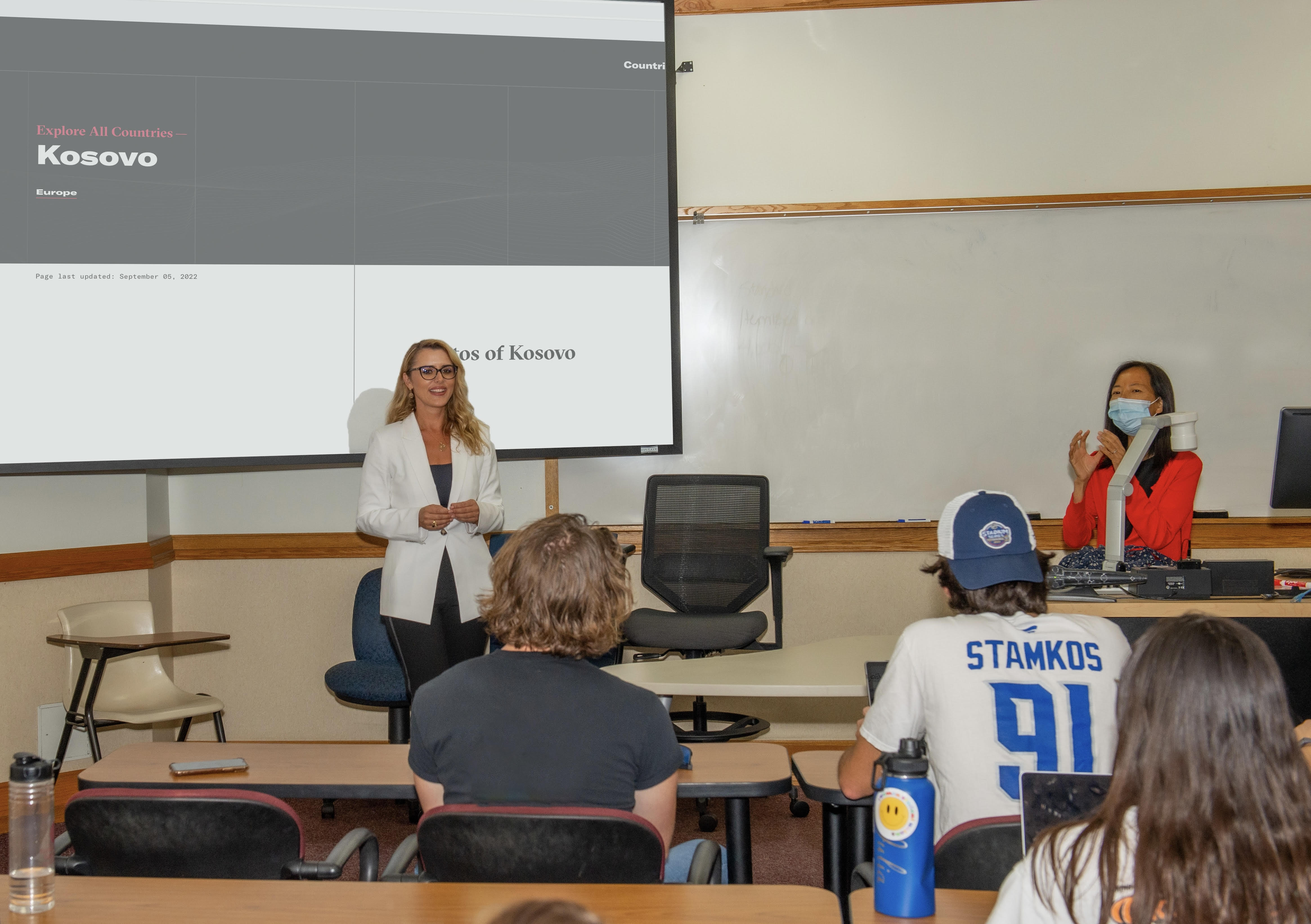 Adelina Emini is a Visiting Scholar from Kosovo who has spent the Fall semester of 2022 at FSU as a marketing PhD candidate in the final stages of her dissertation from the University of Prishtina. Adelina is completing her research under the mentorship of Dr. Ruby Lee at the College of Business, who she credits for playing an instrumental role in helping her become an international scholar.
"I was eager to align within a highly regarded university in the United States that would, at the same time, challenge me and allow me to explore different approaches in marketing that I can apply when I return to Kosovo," Emini said.
She earned her bachelor's and master's degree in marketing from the University of Prishtina. She works as the International Relations Manager for Radio Television of Kosovo (RTK), the public service broadcaster in Kosovo. She previously worked as a Marketing Analyst for RTK, however, her current role has allowed her to branch out and work closely with international media. According to Emini, the most rewarding part of working with RTK is searching for the truth and spreading hope in my country during often challenging times.
Although her work with RTK has been very important to Adelina, she also serves as the President of the Wheelchair Basketball Federation under the Kosovo Paralympic Committee and has worked as a Lecturer of Marketing and Media. She has also had a successful singing career.
Adelina is the co-founder of the Forum Leadership and Diplomacy, a non-governmental organization focused on the empowerment of women and girls of all ethnicities in Kosovo. The academy works towards this goal by providing professional advice and personal leadership strategies so that women can become more active participants in political and business life.
 "As a PhD candidate, much of my emphasis thus far has been focused on best practices, conducting research, and learning new teaching techniques and methodologies which have enhanced my research in the area of marketing," Emini said.
While engaging in research within the College of Business and with Dr. Lee, she is also working closely with Terry Coonan, the Executive Director at FSU's Center for the Advancement of Human Rights, where her emphasis is on expanding outreach and developing a social media campaign. She is thankful for the opportunity to fuse her marketing research with her experience in women's empowerment and civil society in Kosovo.
As the only international scholar to visit FSU from Kosovo, she has appreciated the chance to share the culture of Europe's youngest country (the second newest country in the world) with her fellow students, faculty and staff. "What I especially appreciate is the possibility to learn and exchange ideas with both colleagues and professors in an open environment and not just in my own area of expertise but also in other fields," Emini said. Besides exchanging cultures, she has enjoyed being able to use her time at FSU to develop innovative ideas for future research and educational partnerships between the United States and Kosovo.
As the Fall semester is coming to an end, Adelina is preparing to defend her PhD dissertation at the University of Prishtina in the coming weeks. As she prepares for this, she wants to send this message to anyone considering becoming an international scholar or student: "Do not be afraid to try new things. You may discover a passion you did not know about by keeping yourself open to different possibilities. Explore as much as you can and unleash your full potential."