CGE Student Spotlight: Maryam Takalou
---
CGE Student Spotlight: Maryam Takalou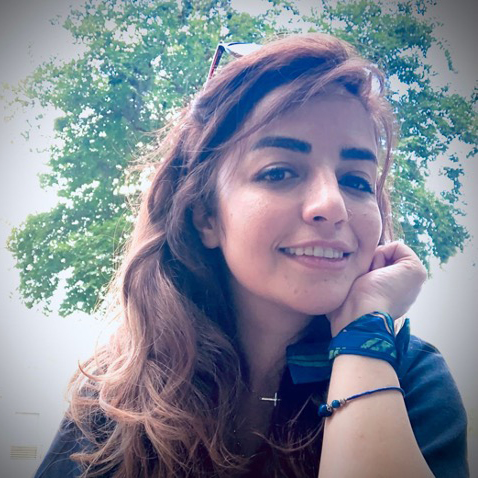 Maryam Takalou – international student from Tehran, Iran, and FSU Fine Art Scholarship winner – acknowledges how her experience at FSU helped her define her path to becoming a fine arts professor.
Takalou came to FSU to challenge herself in her degree while growing individually and professionally. "The Fine Art Department at FSU is really one of the best in the USA. It has supportive and outstanding professors, friendly collaboration, and access to professional and equipped labs," she said.
While she invested a lot of her time with FSU's Fine Arts Department, Takalou also worked as a chair in the Iranian Student Association during the COVID-19 providing leadership and support during these hard times. 
Her greatest achievement at FSU was winning a fine arts scholarship that gave her the opportunity to work as an instructor teaching foundational drawing courses for two years. During this time, she developed relationships with fellow students and faculty that made her time here at FSU special.
Takalou plans to graduate in spring 2022 and pursue a career as a fine arts professor. Her master's thesis focuses on migration issues, feminism, diaspora artists, and identity. The following artwork explores these topics through mixed media representations.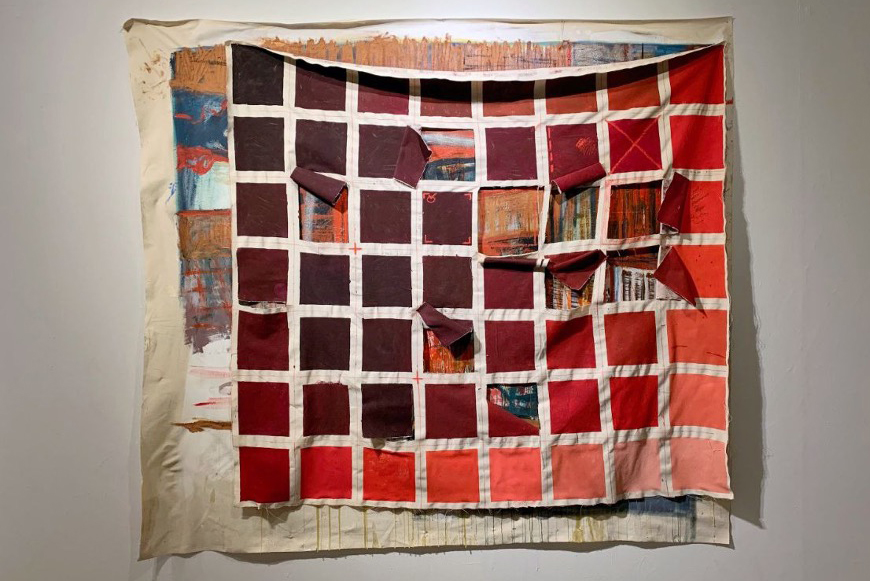 Migration Matrix
A two-layered painting, mixed media of acrylic, oil painting, bees wax, and charcoal. A correlation matrix is simply a table that displays the correlation coefficients for different variables. The matrix depicts the correlation between all the possible pairs of values in a table. It is a powerful tool to summarize a large dataset and to identify and visualize patterns in the given data. I have started to aggregate data in terms of migration statistics of Iran from 1995 up to now. I will continue this method with different databases about migration in the middle east. Apparently, some of the pieces are not associated directly to the correlation matrix but they are overall related in migration references and territory subject.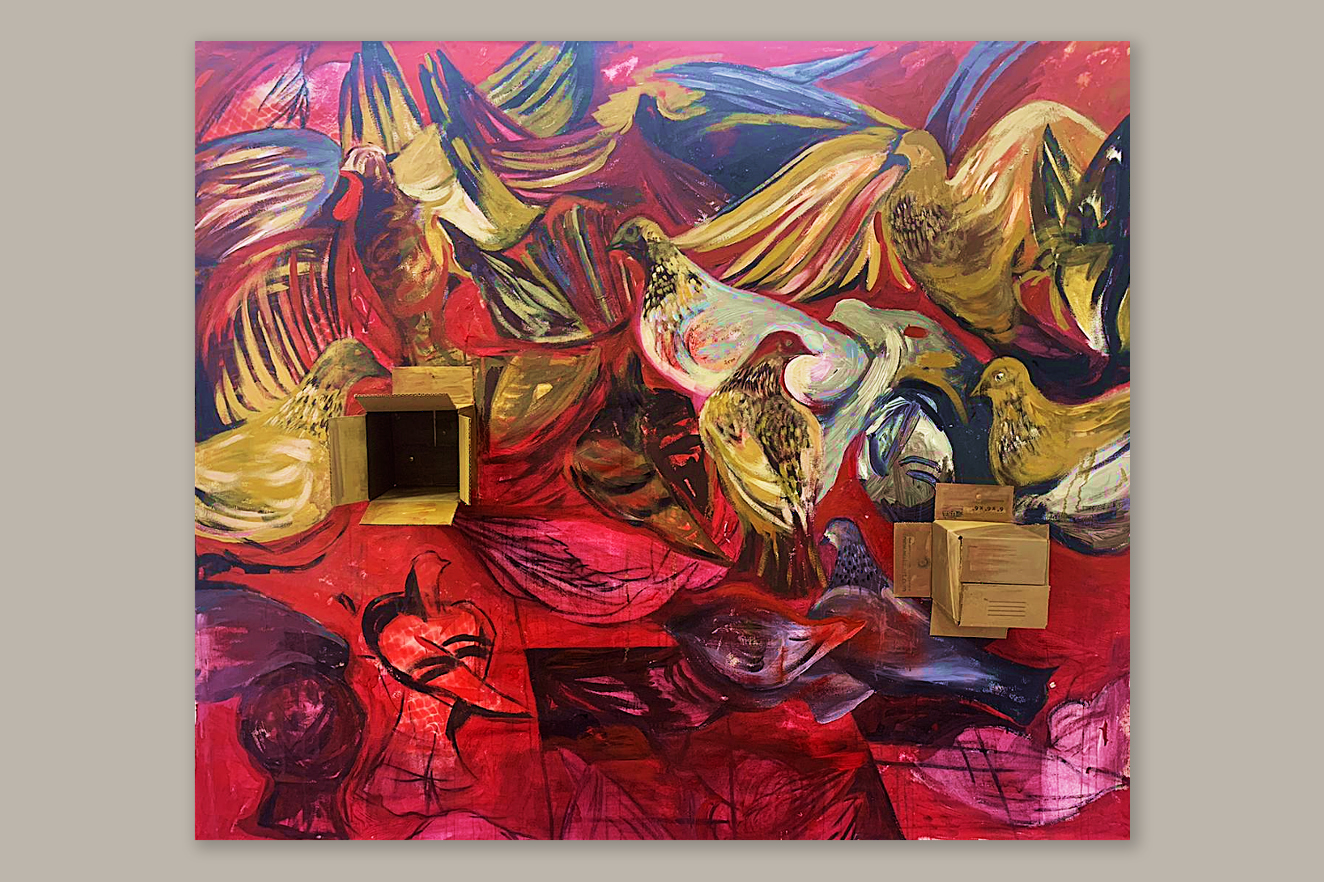 All Together
A multi-media piece using acrylic paint, shipping boxes, and glue. "All together" is a name of a story that all Iranian children read this story in a literature course in primary school. The story is from "Kelileh and Demneh" colorful folklore, a fable story of advice and how to live better. A very simple way teaches us how to live better and gives us advice through animals' stories. Pigeons trapped in a 59-inch painting with some shipping boxes that can consider as escape ways. Based on the story, they must think together and flight together at the same time and then they will be free.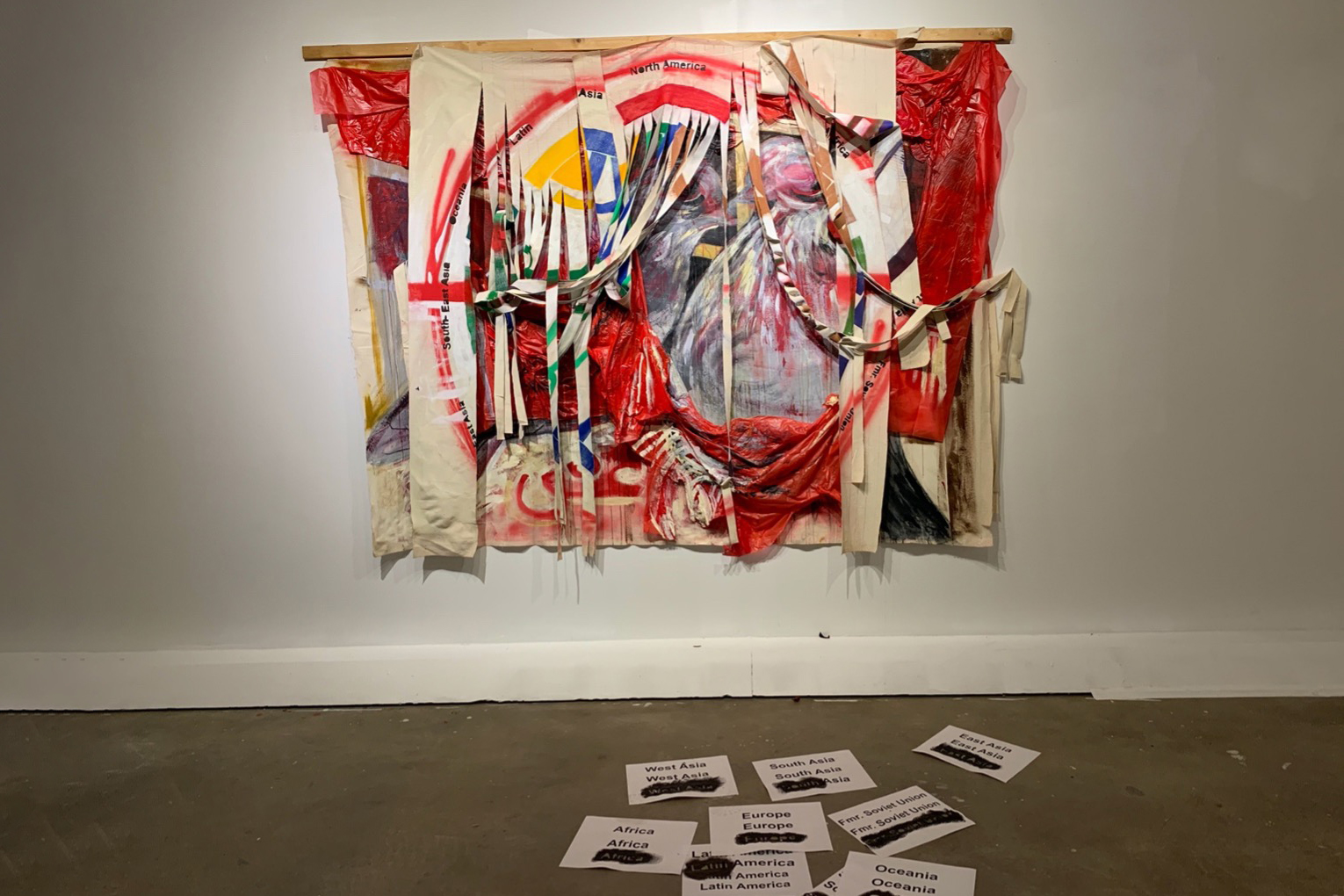 Love In Progress
Mixed media on canvas with plastic, acrylic, oil color, charcoal, spray paint, bees wax, and glue. Love can solve all difficulties and differences among all people in or out of borders. It has been assumed to be a bridge between those who have migrated and their new land. The Upper layer reveals a circle pattern of migration all over the world between 2005 till 2015. It has transformed into a curtain to keep those pigeons that are making love. It's a torn curtain, the avenues of migration have been manipulated by the artist.
If you would like to view more of her recent work, visit www.maryamtakalou.com.
According to Takalou, the best part of her experience at FSU was the openness of the campus community to diverse cultures and the support she received from FSU's Fine Arts Department, which enabled her to explore identity and culture through her work. "FSU guides students to learn more about other nations, different ways of thinking, and solving problems," she said.
Takalou urges incoming international students to engage with other students, faculty, and staff from around the world and build community. The CGE holds International Coffee Hour every Friday from 5–6:30 p.m. in The Globe, and it is just one of the many opportunities to become engaged on campus.
If you're an international student who is interested in being highlighted by the CGE on our website, social media platforms, and in publications, please share your experience as an international student at FSU with us through this questionnaire. Plan to upload a collegiate picture of yourself and spend about 20 minutes completing the survey.