International students accepted into one of 45+ exchange programs will be provided support in the following ways.
---
General Advising
Leigh Ann will be your main contact for your exchange program, including the application process, pre-arrival questions, and support upon arrival to FSU

LEIGH ANN BAUER
Program Director, Global Exchanges
L.Bauer@fsu.edu
Phone: 850-645-1220
---
Academic Advising
Jocelyn Vaughn will contact you regarding the application process as well as class selection. Exchange students cannot register themselves and all requested courses must be approved by the appropriate College/Department at FSU.

Jocelyn Vaughn, Ph.D.
Program Director, FSU Intl Initiatives
jmvaughn@fsu.edu
Phone: 850-645-9413
---
Immigration Advising
Betty Jensen is your contact throughout your stay at FSU for questions about your J-1 visa status.

Betty Jensen
International Student Advisor
bjensen@fsu.edu
Phone: 850-645-6879
---
Global Noles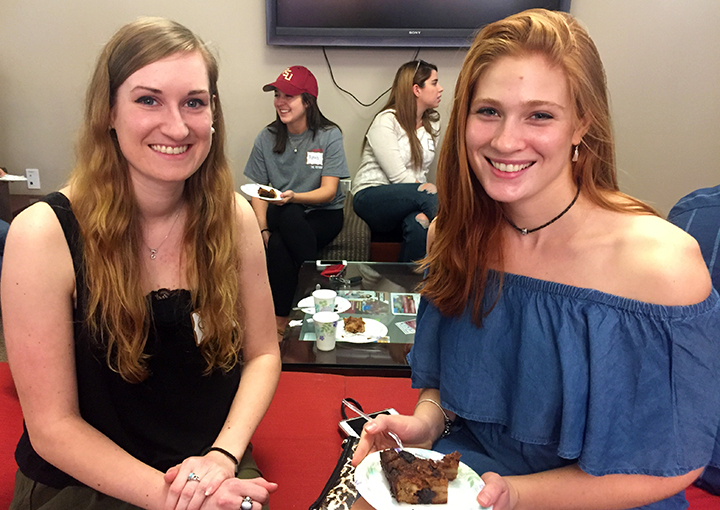 The CGE offers the Global Nole mentor program to assist incoming exchange students with their pre-arrival questions and adjustment to life once at FSU. Exchange students are paired with volunteer FSU undergraduate students. The Global Nole mentors communicate with the new students before they arrive in Tallahassee and participate in social events to ensure they become involved in campus life as quickly as possible.
"[This] is my first experience with America and studying abroad, so I was very excited to come here. My mentor Catherine contacted me a few weeks before my arrival in Tallahassee, which made me less nervous and more confident to make my way around. The mentor program is an awesome and helpful opportunity to settle in and to meet new people. FSU is unbelievably impressive … and I'm very happy that I chose this university." – Sina Reetz, an exchange student from Oldenburg University, Germany.