CGE Student Spotlight: Shehrzad Rasul
---
CGE Student Spotlight: Shehrzad Rasul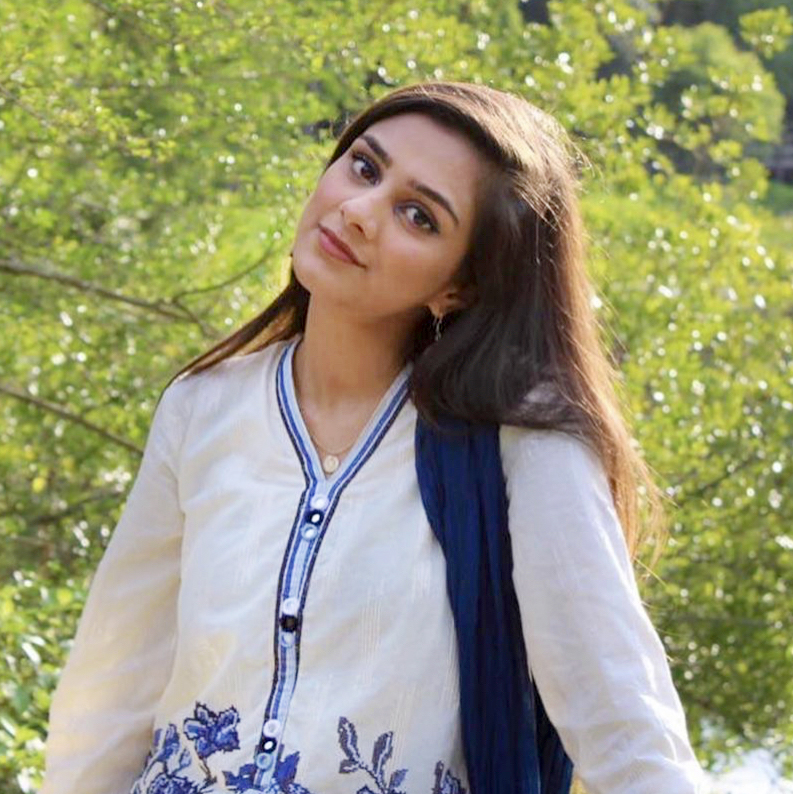 Shehrzad Rasul
International Student from Pakistan
Bachelor's in Psychology
Shehrzad Rasul, international student from Pakistan majoring in psychology and minoring in biology, has maintained a 4.0 GPA while serving in numerous leadership and academic positions in pursuit of her dream of becoming a neuropsychologist.
One of the reasons Rasul chose to attend FSU is the quality of the psychology department. "I love FSU! Its psychology department is one of the best in the country," Rasul said. "I couldn't be at a better school for my undergraduate studies."
Rasul decided to study neuropsychology after taking a neuroscience course with Dr. Orenda Johnson, teaching faculty in FSU's Department of Psychology. "Dr. Johnson inspired me to pursue this field, and I am extremely passionate about it. I would like to pursue a PhD and obtain the proper certification to become a neuropsychologist and work in either a hospital setting or to open my own practice. I am also looking forward to serving as a TA this semester for Dr. Johnson's course, Physiology of Psychology. This is an amazing opportunity for me as it allows me to pursue my passion for neuroscience and psychology and gain invaluable experience."
Rasul is enrolled in a Directed Individual Study (DIS) at the Cognitive and Affective Neuroscience Lab led by Associate Professor Dr. Wen Li. The lab's research focuses on the sensory abnormalities associated with anxiety disorders and neural markers for anxiety disorders. The lab uses many methodologies, such as fMRIs and EEGs, to conduct research within the fields of cognitive and affective neuroscience and clinical psychology.
"In Spring 2021, I presented a paper along with two other DIS students titled, 'The peripheral effect of direct current stimulation on brain circuits involving memory,' " Rasul said. "This semester we hope to conduct research in person and get certified in fMRI training."
According to Rasul, the best part of her FSU experience thus far has been the opportunities available to FSU students to get involved. "I have been very blessed to be able to attend FSU and to be a part of so many organizations here. It has helped me excel academically, and it has also helped me to make new friends and discover new opportunities."
As the president of Hang Tough, an organization that aids pediatric patients and their families, Rasul has planned many fun family activities. She also serves as the events coordinator for the Neuroscience Undergraduate Student Association (NUSA). Rasul also volunteers with the Lake Ella Project, which serves fresh food to the homeless in Tallahassee, and is a member of Beta Beta Beta (biology honor society) and Nu Rho Psi (neuroscience honor society).
"It's been a wonderful experience learning to give back to the community through these organizations," Rasul said. "Hang Tough has been a wonderful opportunity to help sick children and their families throughout their tough times. We hope to get FSU to go gold for Pediatric Cancer Awareness Month! For NUSA, as their events coordinator, I have been working hard to plan amazing socials for incoming and present members. We will be doing journal clubs and a neuroanatomy night this semester. These organizations have allowed me to make new friends and amazing connections, and I am so happy to be involved."
Rasul has maintained a high GPA and engaged as a leader on campus despite facing personal challenges. She cites family support as being critical to her success. "My siblings and mother have been my biggest inspirations during my journey," Rasul said. "I have been through a lot during my high school and college experience medically. They have supported me throughout the whole process, and they are the reason why I have been able to excel at school."
Attending FSU is a family tradition; both her father and her two brothers are FSU alumni. The family came to FSU when she was 8 years old, and her father, Dr. Azmat Rasul, was a Fulbright scholar in the College of Communication and Information and received his doctorate in 2015. Her brother, Muhammad Ehab Rasul, graduated with a dual bachelor's degree in 2019, and her brother Ahmed Hassaan Rasul, graduated with both a bachelor's and master's degree in computer science in 2019 and 2021 respectively.
When asked what advice she would share with incoming international students, Rasul encouraged everyone to get connected early on. "Get involved on campus and join as many organizations as you can! FSU has a lot to offer, and I'm sure you won't be disappointed."
If you're an international student who is interested in being highlighted by the CGE on our website, social media platforms, and in publications, please share your experience as an international student at FSU with us through this questionnaire. Plan to upload a collegiate picture of yourself and spend about 20 minutes to complete the survey.