CGE Student Spotlight: César Paredes Suárez
---
CGE Student Spotlight: César Paredes Suárez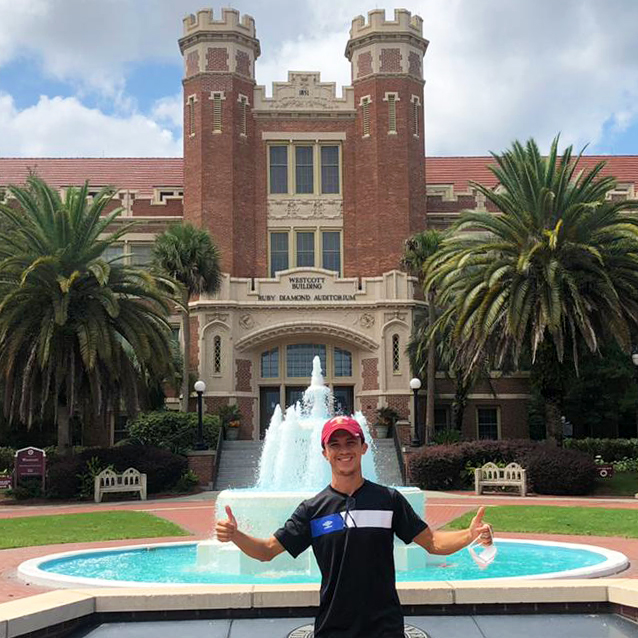 César Paredes Suárez
International Student from Ecuador
Master's Degree in Arts Administration, College of Music
César Paredes Suárez, a Fulbright grantee from Ecuador is pursuing a master's degree in Arts Administration and has received two scholarships that have helped him succeed at FSU: a Latin America/Caribbean (LAC) Scholarship and the Lucilla Gumm & Wiley Housewright Memorial Fund Scholarship.
Paredes chose to attend FSU because of the uniqueness of his graduate program. "It gives the opportunity to have an arts administration concentration specifically within the field of music, having also the chance to complement your major with management courses in the School of Theatre and the Department of Art Education," he said.
He appreciates the warm people he has met, the beautiful campus, and the weather, which most of the year is similar to his homeland's regional weather, the Coast of Ecuador. A final factor that contributed to his decision to attend FSU is that it is ranked among the top 20 national public universities.
"FSU is preparing me to build a successful career, providing practical and updated knowledge of the field, letting me exercise interpersonal skills, and giving me the possibility to connect with arts administration professionals, some of them FSU alumni," Paredes said.
Peredes cites the connections he has made with his peers and professors as one of the best parts of his time at FSU. "All of them make each class a great experience, rewarding and challenging at the same time. The opportunity to know people from around the world is also very special," Paredes said. "I have met FSU students from Puerto Rico, Russia, South Korea, India, Yemen, China, Trinidad and Tobago, Indonesia, Spain and Iran. Each one of them has a history of hard work and huge dreams for the future."
He has gotten involved with the Sailing Club, Catholic Student Union, and the FSU Reading-Writing Center.
Paredes feels that his experience at FSU has made it possible to inspire those around him in his country to pursue their dreams. "I think that once I achieved the opportunity to attend a graduate program in the United States, the people around me also became motivated to achieve their own personal goals. No matter what the obstacles are, with faith, hard work and patience, it is possible to achieve valuable objectives," he said.
After graduation, he wants to work in a music education program to bring societal improvement through valuable artistic experiences and enhancing community engagement. He also mentions the importance to have a balance of priorities when we organize our lives. "One's professional life is important but it's not everything. For me, God is first, then family and then my professional life," Paredes said.
When asked what advice he would give to new incoming international students, he said to check the weather forecast before leaving home, don't overload your schedule, enjoy the chance to become a member of a sports club, and take advantage of the opportunities to improve your communication skills by taking a course or workshop with the English for Academic Purposes Program at the Center for Intensive English Studies (CIES) or FSU's Reading-Writing Center.
---
International Students: If you're interested in being highlighted by the CGE, please share your experience as an international student with us through this questionnaire. Plan to upload a collegiate picture of yourself and spend about 30 minutes to complete the survey.