The Global Ambassadors Program (GAP) gives international students, faculty, and scholars the opportunity to be cultural ambassadors of their countries. Global Ambassadors engage in speaking opportunities throughout Tallahassee and present to community organizations, K-12 students, and FSU students.
Global Ambassadors develop their public speaking and presentation skills in English, meet new people, and use the experience on their resume.
Become a Global Ambassador
We encourage Florida State University's international community of students, scholars, and faculty to join the program by filling out the application online or dropping a hard copy off at the Center for Global Engagement. 
Request a Global Ambassador
Questions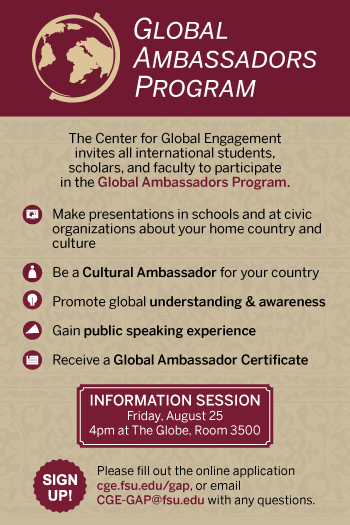 Contact CGE-GAP@fsu.edu if you have any questions.
Reflections
Reflections from Hosts
"Their participation demonstrated commitment and total dedication to fostering better understanding between students in the U.S. and the people from the countries they represent," said FSU Professor Dr. Angel Gonzalez when students visited his International Travel and Culture Class. 
The Global Ambassadors Program is an incredibly valuable experience for the both the presenters and the audience. "The lectures that your ambassadors presented were an eye opener to our PACE girls," said Mr. Eugene Hall of PACE Center for Girls. "They are still talking about the many things they learned about Chinese art, literature, folklore, economy, and culture."
"GAP has been one of the most supportive and exciting additions to our International Protocol course offered through the Dedman School of Hospitality," said Dr. Kim Harris, FSU Professor in Hospitality Management. "We have enjoyed the presentations on international opportunities, students visiting our class representing their home countries, and the engagement offered through the many activities that the Center for Global Engagement sponsors. What a gem on FSU's Campus!"
Reflections from Global Ambassadors
"Through my experience with GAP I got to present at a lot of schools and community organizations," said Ramy Noseir, international student from Egypt. "GAP helped me improve my presentation skills and use different techniques depending on the audience. I loved going to the schools and teaching the kids about my country. The questions were always fun because sometimes they ask questions that I had never thought of before. Sometimes you even get to learn more about your country through their questions or while you are preparing the presentation. It was an amazing experience being a Global Ambassador, and I would recommend everyone give it a try. I guarantee you will never stop being a Global Ambassador."
"The Global Ambassadors Program, better known as GAP, has been an incredible experience for me. From knowing the students to getting to know the teachers, it has been an experience that I would recommend to all of my fellow international students," said Ana Croston, international student from Panama. "From the first time I did it, I wished I had the opportunity to be more involved in this program. This is an amazing opportunity for international students to get involved in the Tallahassee community and give back for everything that this beautiful town has given us. There is nothing better than talking to other people who are interested in your culture and your country."
"It is my great honor to participate in the Global Ambassador Program. Not only did I get a chance to introduce my culture to the world, but I also learned how to communicate with people from other cultures," said Ye Wang, international student from China. "I really appreciate this precious opportunity, which broadened my horizons as well as gave me a global perspective. I love my audiences very much. They are from elementary school kids to people who live in a retirement center. Through the communication with them, I know how love, care, and patience can change the world. This is a life-changing experience."
"Having the chance to speak to others about my culture not only benefits those I am presenting to; it benefits me as well," said Ricardo Batres, international student from Panama. "I find it to be a gratifying experience to be able to speak to people about my country and teach them about some of its history and language. This is a great way to help foster understanding and appreciation for other cultures, which I think has the potential to result in a society that is more open and tolerant. Initiatives like the Global Ambassadors Program help advance that goal."
title-inside title-centered
2